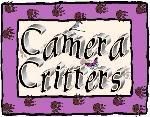 The first few shots are from a park near my house.
If you click on the picture of the squirrel you can see him better. He was making all sorts of chattering noises so I snuck up to take his picture, seconds after I took this shot he charged after me.....I have never been charged by a squirrel before!!!
And here is a few camera critter shots from home!!
This one is a shot of my oscar and his food that became his friend! The goldfish is about 8-9 inches long!
Go check out more great animal shots by visiting
Camera Critters
. Have a great weekend everyone!