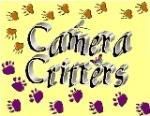 Click on the button to go check out more peoples critters!!!
This week I have a few shots of my dog and cat, who I am sure of by now are so sick of me and my camera LOL!
Here's a shot of Montana in the Van, he gets so excited to go out for walks!!
Here's a shot of my lab Montana running at the beach.
I love this shot of my cat because he looks like he is posing for a picture!
This used to be shamu's favorite place to sit, until he got to big to fit in the box