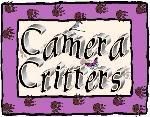 I found a new cool site called
Camera Critters
which is awesome because I love taking pictures of animals. This is my first CC Blog so I thought I would share my lovely little beasts I call pets!!!
First up is my yellow lab Montana, he is 6 years old and he loves his stuffed animals!
Next up is my kitty Shamu, who just turned a year old.
And last but not least is my baby Turk, who is a 3 year old oscar that is now over a foot long. Here is a picture of him having a snack!