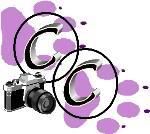 Today's
camera critters
is all about bugs. These shots were taken in my front yard last year!
This butterfly shot is still one of my favorite pictures!!!
I love this spider because he looks like he has a happy face on his belly! These guys are all over my front yard in the cedars.
We found this creepy little guy in the yard, my husband was holding it while I got the picture, if you look closely you can see it is biting him!