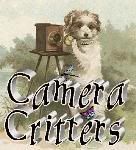 I have a lot of photos for camera critter today, because I couldn't decide which ones to use, so I used them all. My family just got back from a camping trip and these are some of the critters we seen.
This horse was at a little farm on the side of the road, I could have taken his picture all day!! He was so friendly.
This little guy had some crazy hair!!!
I loved the colours in this bird!
Frog in the creek
Lastly, this was not on I camping trip he was in our driveway at home.....yuck!
Make sure to go to
Camera Critters
to go check out more awesome pictures!!!